We have recently been sent a Sony V62 high density video tape by Barrie Hesketh. Barrie has had an active career in theatre and in 1966 he set up the Mull Little Theatre on the Isle of Mull off the West Coast of Scotland with his late wife Marianne Hesketh. Specialising in what Barrie calls the 'imaginative use of nothing' they toured the UK, Germany and Holland and gained a lot of publicity world wide in the process. Both Marianne and Barrie were awarded MBEs for their services to Scottish Theatre.
You can read a more detailed history of the Mull Little Theatre in this book written by Barrie.
The video tape Barrie sent us came from when he and Marianne were working as actors in residence at Churchill College at Cambridge University. Barrie and Marianne had what Barrie described as 'academic leanings,' gained from their time as students at the Central College of Speech and Drama in London.
In a letter Barrie sent with the tape he wrote:
'I own a copy of a video tape recording made for me by the University of Cambridge video unit in 1979. I was researching audience/actors responses and the recording shows the audience on the top half of the picture, and the actors on the bottom half – I have not seen the stuff for years, but have recently been asked about it.'
While audience research is a fairly common practice now in the Creative Arts, in 1979 Barrie's work was pioneering. Barrie was very aware of audience's interests when he performed, and was keen to identify what he calls 'the cool part' of the audience, and find out ways to 'warm them up.'
Recording audience responses was a means to sharpen the attention of actors. He was particularly interested in the research to identify 'includers'. These were individuals who influenced the wider audience by picking up intentions of the performers and clearly responding. The movement of this individual (who would look around from time to time to see if other people 'got it'), would be picked up in the peripheral vision of other audience members and an awareness gradually trickled throughout. Seeing such behaviour helped Barrie to understand how to engage audiences in his subsequent work.
Barrie's tape would have been recorded on one of the later reel-to-reel tape machines that conformed to the EIAJ Standard.
The EIAJ-1 was developed in 1969 by the Electronic Industries Association of Japan. It was the first standardized format for industrial/non-broadcast video tape recording. Once implemented it enabled video tapes to be played on machines made by different manufacturers.
Prior to the introduction of the standard, tapes could not be interchanged between comparable models made by different manufacturers. The EIAJ standard changed all this, and certainly makes the job of transferring tapes easier for us today! Imagine the difficulties we would face if we had to get exactly the right machine for each tape transfer. It would probably magnify the problem of tape and machine obsolescence effecting magnetic tape collections.
In the Greatbear Studio we have the National Panasonic Time Lapse VTR NV-8030 and Hitachi SV-640.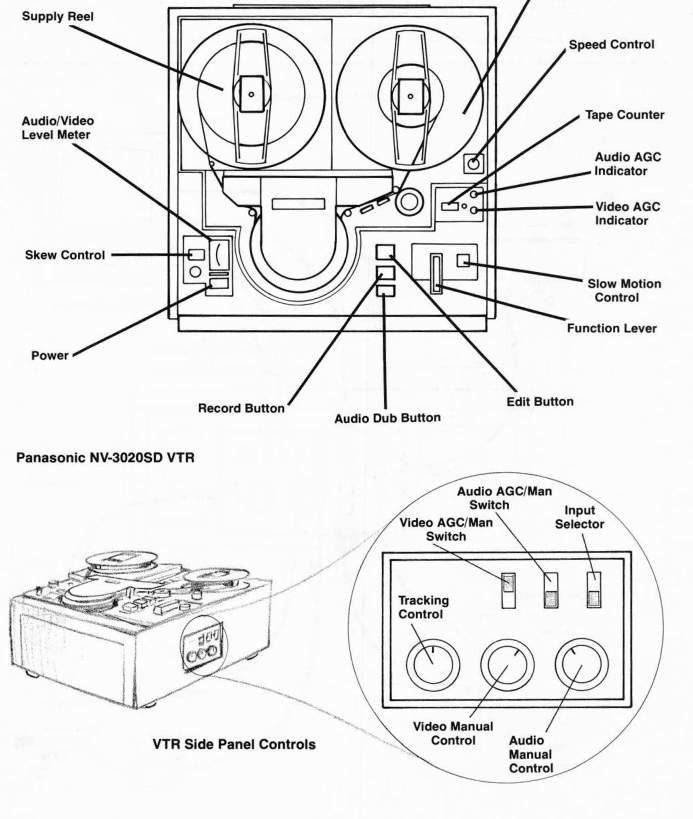 Like Ampex tapes, all the Sony EIAJ tape tend to suffer from sticky shed syndrome caused by absorption of moisture into the binder of the tape. Tapes need to be dehydrated and cleaned before being played back, as we did with Barrie's tape.
The tape is now being transferred and Barrie intends to give copies to his sons. It will also be used by Dr Richard Trim in an academic research project. In both cases it is gratifying to give the these video tapes a new lease of life through digitisation. No doubt they will be of real interest to Barrie's family and the wider research community.