We are currently digitising a collection of U-matic Ampex KCS-20 video tapes for Keith Barnfather, the founder of Reeltime Pictures.
Reeltime Pictures are most well-known for their production of documentaries about the BBC series Doctor Who. They also made Doctor Who spin-off films, a kind of film equivalent of fan fiction, that revived old and often marginal characters from the popular TV series.
The tapes we were sent were Ampex's U-matic video tapes. For those of you out there that have recorded material on Ampex tape be it audio or video, we have bad news for you. While much magnetic tape is more robust than most people imagine, this is not true of tape made by Ampex in the 1970s and 1980s.
Nearly all Ampex tape degrades disgracefully with age. A common outcome is 'sticky shed syndrome,' a condition created by the deterioration of the binders in a magnetic tape which hold the iron oxide magnetic coating to its plastic carrier. So common was this problem with Ampex tape that the company patented the process of baking the tape (to be done strictly at the temperature 54 Centrigade, for a period of 16 hours), that would enable the tape to be played back.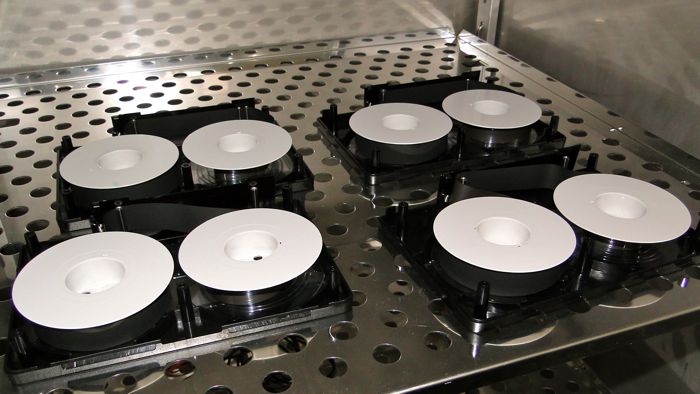 In order to migrate the Ampex video tapes to a digital format they have, therefore, to be dehydrated in our incubator. This is careful process where we remove the tape from its outer shell to minimise 'outgassing'. Outgassing refers to the release of a gas that has become dissolved, trapped, frozen or absorbed in material. This can have significant effects if the released gas collects in a closed environment where air is stagnant or recirculated. The smell of new cars is a good example of outgassing that most people are familiar with.
When baking a tape in an enclosed incubator, it can therefore be vulnerable to the potential release of gasses from the shell, as well as the tape and its constituent material parts. Removing the shell primarily minimises danger to the tape, as it is difficult to know in advance what chemicals will be released when baking occurs.
It is important to stress that tape dehydration needs to be done in a controlled manner within a specifically designed lab incubator. This enables the temperature to be carefully regulated to the degree. Such precision cannot of course be achieved with domestic ovens (which are designed to cook things!), nor even food dehydrators, because there is very little temperature control.
So if you do have Ampex tapes, whether audio or video, we recommend that you treat them with extreme care, and if what is recorded on them is important to you, migrate them to a digital format before they almost certainly deteriorate.