What a year it has been in the life of Greatbear Analogue and Digital Media. As always the material customers have sent us to digitise has been fascinating and diverse, both in terms of the recordings themselves and the technical challenges presented in the transfer process. At the end of a busy year we want to take this opportunity to thank our customers for sending us their valuable tape collections, which over the course of 2013 has amounted to a whopping 900 hours of digitised material.
We feel very honoured to play a part in preserving personal and institutional archives that are often incredibly rare, unique and, more often than not, very entertaining. It is a fairly regular occurrence in the Great Bear Studio to have radio jingles from the 60s, oral histories of war veterans, recordings of family get-togethers and video documentation of avant-garde 1970s art experiments simultaneously migrating in a vibrant melee of digitisation.
Throughout the year we have been transported to a breathtaking array of places and situations via the 'mysterious little reddish-brown ribbon.' Spoken word has featured heavily, with highlights including Brian Pimm-Smith's recordings of his drive across the Sahara desert, Pilot Officer Edwin Aldridge 'Finn' Haddock's memories of World-War Two, and poet Paul Roche reading his translation of Sophocles' Antigone.
We have also received a large amount of rare or 'lost' audio recordings through which we have encountered unique moments in popular music history. These include live recordings from the Couriers Folk Club in Leicester, demo tapes from artists who achieved niche success like 80s John Peel favourites BOB, and large archives of prolific but unknown songwriters such as the late Jack Hollingshead, who was briefly signed to the Beatles' Apple label in the 1960s. We always have a steady stream of tapes from Bristol Archive Records, who continue to acquire rare recordings from bands active in the UK's reggae and post-punk scenes.  We have also migrated VHS footage of local band Meet Your Feet from the early 1990s.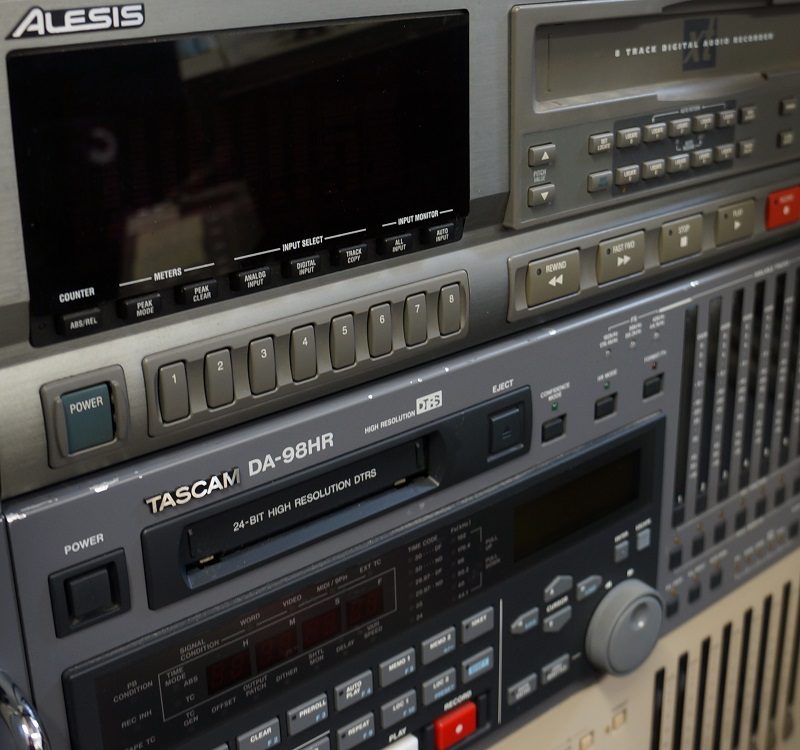 On our blog we have delved into the wonderful world of digital preservation and information management, discussing issues such as 'parsimonious preservation' which is advocated by the National Archives, as well as processes such as migration, normalisation and emulation. Our research suggests that there is still no 'one-size-fits-all' strategy in place for digital information management, and we will continue to monitor the debates and emerging practices in this field in the coming year. Migrating analogue and digital tapes to digital files remains strongly recommended for access and preservation reasons, with some experts bookmarking 15 April 2023 as the date when obsolescence for many formats will come into full effect.
We have been developing the blog into a source of information and advice for our customers, particularly relating to issues such as copyright and compression/ digital format delivery. We hope you have found it useful!
While the world is facing a growing electronic waste crisis, Great Bear is doing its bit to buck the trend by recycling old domestic and professional tape machines. In 2013 we have acquired over 20 'new' old analogue and digital video machines. This has included early '70s video cassette domestic machines such as the N1502, up to the most recent obsolete formats such as Digital Betacam. We are always looking for old machines, both working and not working, so do get in touch if your spring clean involves ridding yourself of obsolete tape machines!
Our collection of test equipment is also growing as we acquire more wave form monitors, rare time-based correctors and vectorscopes. In audio preservation we've invested heavily in early digital audio machines such as multi-track DTRS and ADAT machines which are rapidly becoming obsolete.
We are very much looking forward to new challenges in 2014 as we help more people migrate their tape-based collections to digital formats. We are particularly keen to develop our work with larger archives and memory institutions, and can offer consultation on technical issues that arise from planning and delivering a large-scale digitisation project, so please do get in touch if you want to benefit from our knowledge and experience.
Once again a big thank you from us at Greatbear, and we hope to hear from you in the new year.