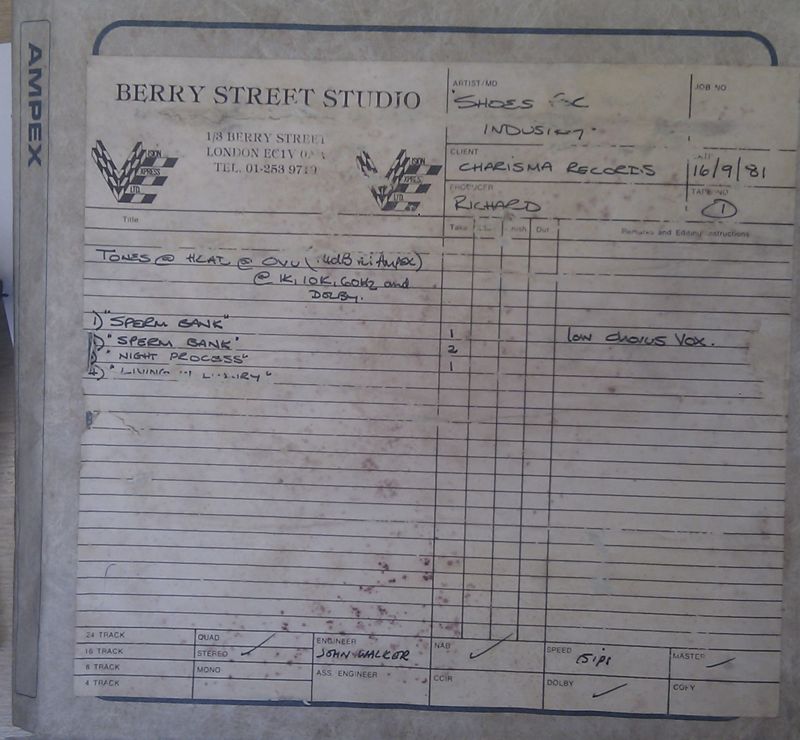 In amongst a batch of very mouldy quarter inch master tapes we were recently asked to look at was this unreleased recording by Shoes for Industry, the Bristol band on Fried Egg Records.
Like much late 1970s and '80s studio recordings, this was recorded on Ampex branded tape that suffers badly from binder hydrolysis or 'sticky shed syndrome' that must be addressed before the tape can be successfully played and digitised. This was in addition to the mould growth that was evident on the tape pack edges, and cardboard box. Storage in damp conditions and high humidity causes this type of mould and increases the breakdown of magnetic tape generally, sometimes to the point where de-lamination occurs, that is, the binder breaks away from the polyester structure of the tape. When this happens, which is luckily quite rarely, the magnetic information is damaged and mostly lost beyond repair.
Thankfully this tape, whilst it looked in poor condition was relatively straightforward to restore but time consuming. Careful hand winding, and mould cleaning is necessary as is awareness of the potential health effects of some mould spores so good ventilation and protective masks are necessary.