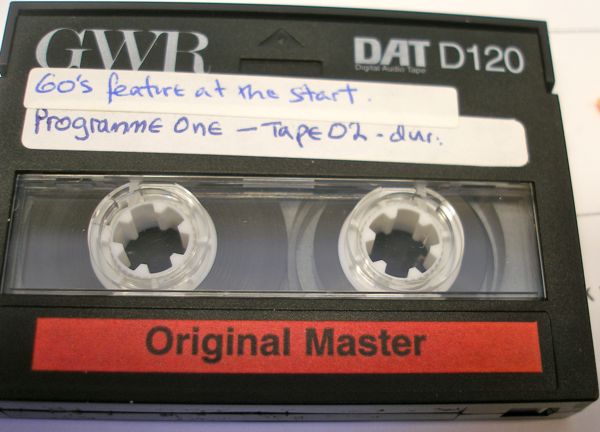 We often get sent Digital Audio Tapes or DATs for transfer to .WAV computer files. As these recordings are already digital or 'born digital' the process should be straightforward. Our audio interface cards accept the SPDIF or AES digital audio stream from the DAT machine and record this as a WAV or BWAV file. This file can then be burnt as a CD or delivered digitally on a hard drive or removable media.
The big problems though come with the tape that these digital recordings are made on. The tape is only 3.81 mm wide and moves at a very slow 8.15 mm/sec. The tape is also very thin at 13 microns. The recording system and transport used is helical scan just like in video recording but with the very slow tape speed and small tape dimensions any defects or problems with the tape can result in many errors which may not be correctable by the error-correcting system of the DAT machine.
One problem we're starting to see more and more are tapes that snap. The tape pictured above was a D120 which was never recommended by the DAT machine manufacturers but was still often used for its extended recording time. This tape snapped without warning a quarter of the way through the recording. There were no outward signs or potential problems just a sudden clean break on a diagonal.
To recover this tape it could have been spliced with splicing tape of the correct width like in analogue recording but there is a high risk if not done perfectly of irreparable damage to heads on the drum. Even with this type of repair some of the material would have been lost. A safer solution is to rehouse each spool in another shell. This lets you recover as much as possible from the tape, without the risk of head damage.
Whichever solution you decide, the DAT shell must be disassembled. A small crosshead screwdriver needs to be used to remove all the case screws. There are two hidden ones, accessed by sliding part of the cassette shell down:
You can now carefully lift both halves of the DAT shell apart, making a note of the tape path inside the shell. Be careful not to touch the tape with your bare skin as fingermarks and grease can cause head to tape contact problems and audio errors and dropouts.