Bristol Archive Records is more than a record label. It releases music, books and through its website, documents the history of Bristol's punk and reggae scenes from 1977 onwards. You can get lost for hours trawling through the scans of rare zines and photographs, profiles of record labels, bands, discographies and gig lists. Its a huge amount of work that keeps on expanding as more tapes are found, lurking in basements or at that unforeseen place at the back of the wardrobe.
Greatbear has the privilege of being the go-to digitisation service for Bristol Archive Records, and many of the albums that grace the record store shelves of Bristol and beyond found their second digital life in the Greatbear Studio.
The tapes that Mike Darby has given us to digitise include ¼ inch studio master tapes, ½ inch 8 track multi-track tapes, audio cassettes, DAT recordings and Betamax digital audio recordings. The recordings were mostly made at home or in small commercial studios, often they were not stored in the best conditions.  Some are demos, or other material which has never been released before.  Many were recorded on Ampex tape, and therefore needed to be baked before they were played back, and we also had to deal with other physical problems with the tape, such as mould, but they have all, thankfully, been fixable.
After transfers we supply high quality WAV files as individual tracks or 'stems' to label manager Mike Darby, which are then re-mastered before they are released on CD, vinyl or downloads.
Bristol Archive Records have done an amazing job ensuring the cultural history of Bristol's music scenes are not forgotten. As Mike explains in an interview on Stamp the Wax:
'I'm trying to give a bit of respect to any individual that played in any band that we can find any music from. However famous or successful they were is irrelevant. For me it's about acknowledging their existence. It's not saying they were brilliant, some of it was not very good at all, but it's about them having their two seconds of "I was in that scene".'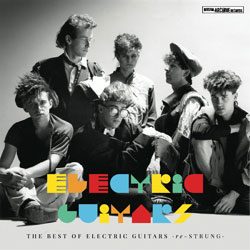 While Darby admits in the interview that Bristol Archive Records is not exactly a money spinner, the cultural value of these recordings are immeasurable. We are delighted to be part of the wider project and hope that these rare tapes continue to be found so that contemporary audiences can enjoy the musical legacies of Bristol.